I figured that I might as well make the first post, since Ina is still rather busy with schoolwork. It'll be a quick one, though, since I'm also rather preoccupied myself-- but I figured I might as well make an entry before these photos rot and become forgotten. :( Yes? Indeed.
Anyway, over the past weekend, I attended the final two runs of the production I performed and worked on with the Ateneo Blue Repertory entitled "Edges: A Song Cycle." (My full blog about it is in my
tumblr
.) I had my final show the day before, so I wasn't included in any of the shows for the last day of runs and thus took the liberty to dress up a liiiiitle smidgen more than usual (for a day in-campus, at least.) After all, I had the entire day, two shows to watch, an air-conditioned theatre and no weather-related hassles nor long, humid walks to get in the way.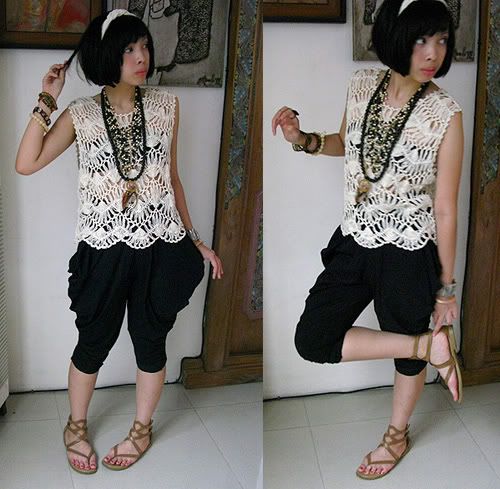 Headband:
Forever 21 /
Knitted cropped top:
Thrifted (Php 50, baby!) /
Bandeau (worn under):
American Apparel /
Jersey Jodhpurs:
A gift from mom /
Sandals:
Xhilaration by Target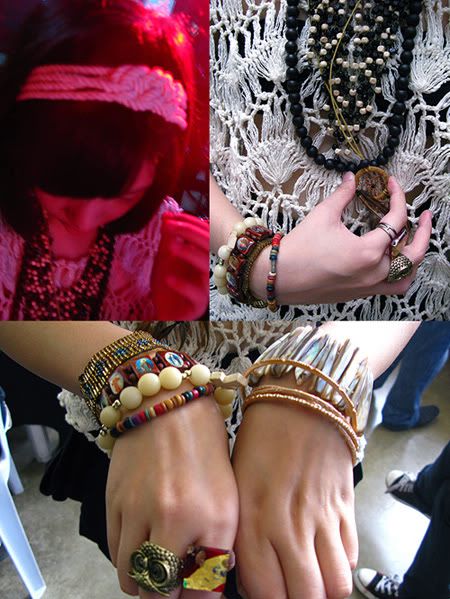 Here are a few detail shots. It's hard for me to explain where I get my accessories because I not only like wearing them in excess, but I also get them from anywhere and everywhere. I can, however, say that the owl ring is from Forever 21 and that the red Murano ring is an old souvenir we got from a Mediterranean cruise my family and I went on yeaaaaars ago, when I was around 5-7 years old. Oh, and that brown dreamcatcher necklace I'm holding in the top right photo is from Boracay! It's also really, really old and this is the first time I've worn it in eons.
I guess that's it for now. Goodbye! :D Here's to the first post, and to many more posts to come.