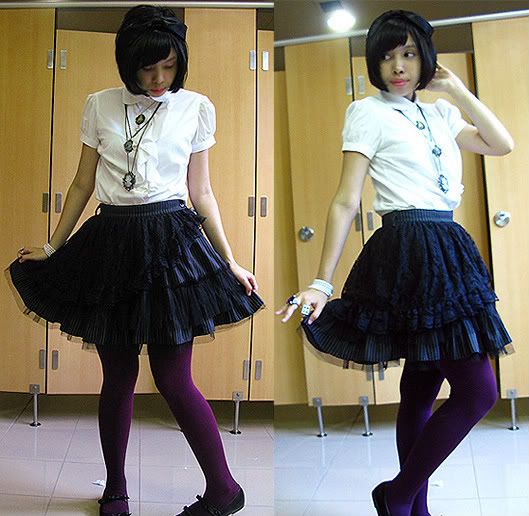 Bow headband: Shibuya 109, Tokyo | White blouse: Zara (I borrowed it from my sister) | Necklaces (shortest to longest): Hot Topic, The Beadshoppe, Greenhills Tiangge | Skirt: Spider, Hong Kong | Shoes: Charles & Keith
WHY YES, I DID JUST TAKE PHOTOS OF MY OUTFIT INSIDE A COMFORT ROOM! Not to worry, it's all intentional, in fact, it's an attempt at satirizing the typical photo compositions observed in fashion-blog-photography! Lush, green grass? A scenic rooftop? A stark white wall? SCREW ALL THAT, here, have a LAVATORY!
Sarcasm aside, I'll have you know that I took all these outfit photos all within the humble span of a 10-minute break in the middle of a 2-hour class! And the bathroom was all I had, really. It was practically empty at the time, and the sink was the only place I could put my camera on so I could take self-timed portraits. Applaud my bravery
and desperation.
I didn't have any other opportunity to take these photos!
In all unglamorous honesty
, I really don't get how all of those fashion bloggers do it all the time. Despite Ina being a lovely photographer, she studies in a different school altogether, and since I don't really spend most of my time with other photographer friends, I get by with taking photos of my outfits either by myself or by awkwardly asking a friend to do it for me. Heh, when there's a will, there's a way, indeed!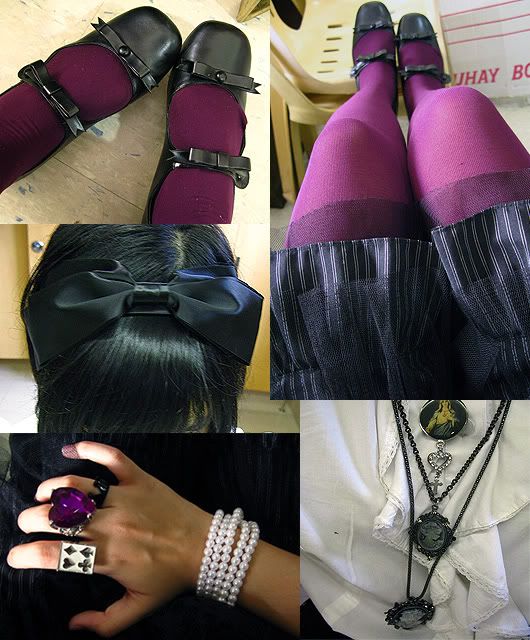 I was flipping through my copies of Gothic Lolita Bible and got semi-inspired to reconnect with the inner Gothic Lolita fangirl in me and wear a more toned down version of the look to school. I really wish I had more clothes like these. I guess I should bring myself to try and make some despite my annoying lack of equipment (aka an edging machine, which I sort of refuse to work without because I want my seams clean, dammit!)
I adore lace. I think it's my favorite kind of fabric. It makes almost anything look ladylike and elegant! Well, save for the cheaper-looking kinds of lace, when used excessively. (Otherwise I'm totally gaga for anything with excessive amounts of lace.) I love how lace can either look demure, dainty, or sensual and, dare I say it, kinky (HAHA I said it! Judge me not!)-- and maybe even all at the same time. Heehee.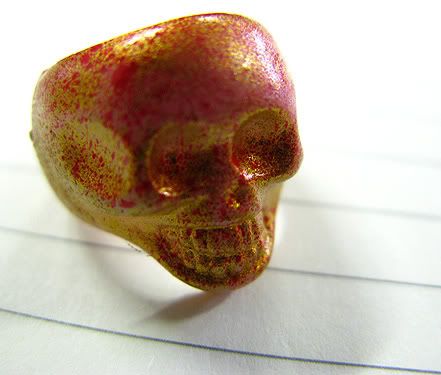 Oh and I almost forgot. I get these absurd urges to do the most random things in the hours before getting ready for school, so I got an old, white, plastic skull-shaped ring and spray painted it with what little amount of spray paint I had left from previous projects. Okay, this part was totally random, I don't even know why I'm telling you this. I failed at making a cohesive entry. And guess what? I'm going to end it here! THIS IS NOT A SCHOOL PAPER, THEREFORE I NEED NO LOGICALLY SOUND CONCLUSION. I am wrapping up nothing. I already posted an outfit shot in a comfort room, so why not continue propagating the blatant lack of poise in this entry by giving you an abrupt ending like... THIS?