A photoshoot for Bluerep's newbie production in the morning, slight shopping in the afternoon while waiting for a soundcheck, and a gig in the Hard Rock Cafe in the evening. It's whirlwind weekends like these that make me feel like I'm truly alive, and not just regularly flipping through endless readings mechanically or tapping away at a calculator for the probability that A will happen instead of B.
Here's a cellphone snapshot of the photoshoot. The newbie production is entitled Freakshow! :) Hopefully I'll be able to show you the actual photoshoot pictures soon. (Oh, and I'm posting about this because I'm the Technical Director for Wardrobe, along with my friend Beng Villanueva. Haha!)
Here's one of the costumes I worked on along with Beng and KL, the TD for props. It's unfinished and unpolished but so far I'm pleased with how it's turning out. This is a leotard for a "reptile-lady" character. I tried to make a more 3D scaley effect by gluing fake nails onto it. What do you think? Oh and sorry about the awkward uneven blotches! They have yet to be fixed.
You can read more about this in my
other blog
if you're interested (and I am flattered that you are but it is likely that you are not, HAHA!) because right now I've got to move on to what I really intended to do with this entry...
GIVE YOU A SURVEY TO ANSWER!
No, I'm kidding, I'm posting an outfit.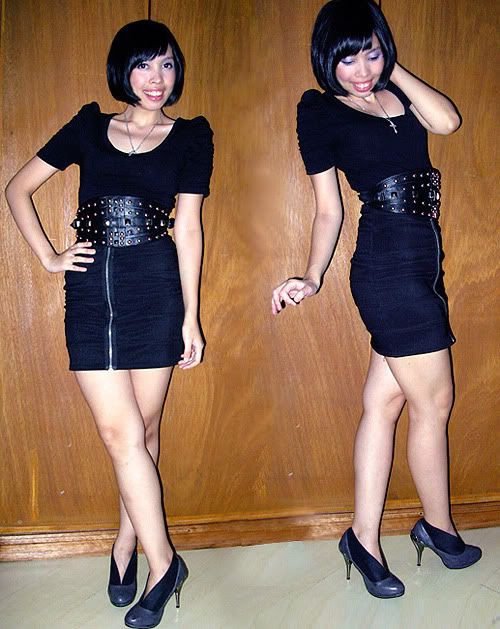 Top: Cotton On | Belt: Glitterati | Skirt: Kamiseta | Shoes: Thrifted
This was the outfit I wore to the gig at Hard Rock (where I sang backup vocals along with Tina Ramos for the band SEED! This was their first gig... A first gig in Hard Rock Cafe! Swell, isn't it?) Honestly, this outfit felt a little too trendy for me, but I had to tone down on the stylization of this outfit and go a little minimal and incognito, because otherwise it would have been a tad bit upstaging for a backup vocalist. Eventually, I found I was still slightly overdressed and changed into a pair of studded flats instead and took out the belt. (Of course, I put it back on immediately after SEED's set! Haha!)
Oh and yes, you read it right! Those shoes were thrifted, and cost me around Php 300!! I absolutely love them, but they hurt like an eternity of ass-kicking. Well, give or take 15 minutes of walking around in them. They're the kind of heels that squish your toes up front but feel totally fine at the back. Here I am again, being totally unglamorous.
Here are some detail shots, as usual. I'm in love with the obnoxiously shiny and twisty-looking heel.
Here's the band! From left to right, SEED is composed of Ryan Camus (guitar), Maronne Cruz (backup vocals), Perth Salva (bass), Dana Marquez (piano) --WHO, DESPITE WHAT WOULD HAVE OTHERWISE BEEN AN UNFLATTERING CLOSED-EYE PHOTO, STILL LOOKS GORGEOUS SOMEHOW)---, Gab Medina (vocals), and Marphie Bernardo (drums) who wasn't in the shot!
By the way, we got free shirts. Awww yeah! (Sorry, I was too lazy to flip the image. Don't judge. Haha!)
Well, that's all for now. See you later, alligator! (----I did not just say that.)