In my previous post, I mentioned a styling stint that I was not yet allowed to blog about, and since the article has already been published, I think it's safe to go ahead and tell you about it now!
In the middle of a sleepover that I was having with my good friends, Raymond Ang called me up and asked if I could style for a photoshoot for The Philippine Star's Supreme! section-- to which I nervously but immediately replied with a resounding--- (well, it was resounding in my mind, though I think it may have come out awkward and shaky)--- yes. The concept was to have the model (and the subject of the article), local celebrity Andi Eigenmann, in outfits that fused cosplay and fashion (to symbolize the emergence of cosplay into the local mainstream, so I was told-- Boy, am I abusing the parentheses.)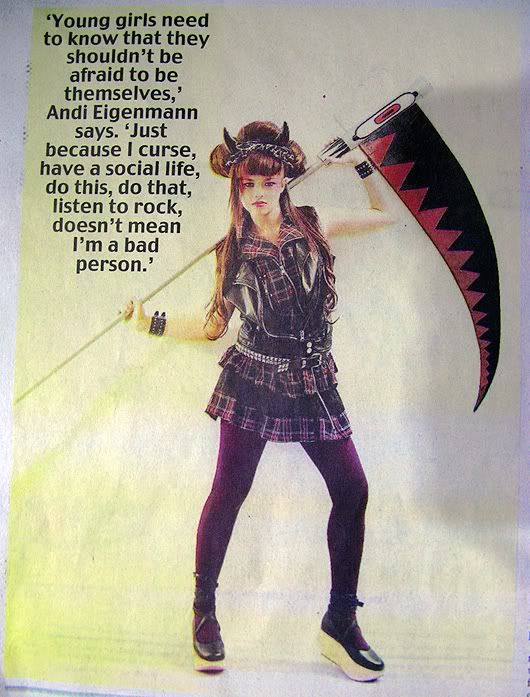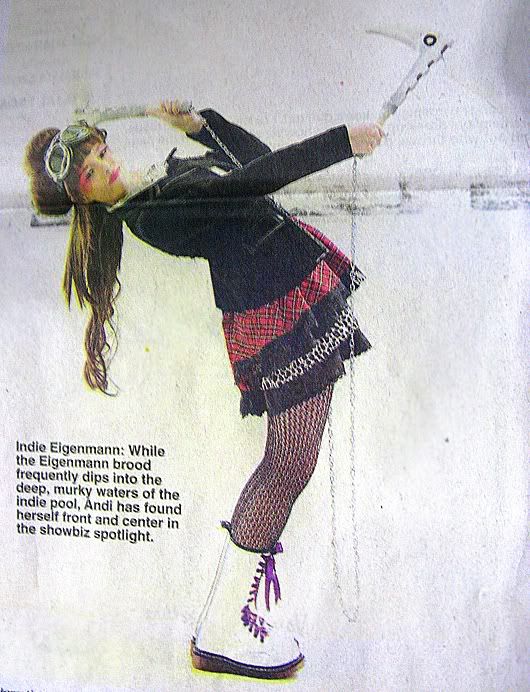 Here are the photos that were used in the article. I'm terribly sorry about the shoddy image quality; I don't own a scanner and had to use my camera.
I tried not to make the outfits adhere too much to certain Japanese fashion sub-groups (e.g. not too Lolita, or not too Gyaru) because I definitely don't consider Japanese fashion to be cosplay, although some people see them in the same light (and they shouldn't be seen that way! Although sometimes people use them as costumes for fun, because they don't normally dress that way, these are actual dressing styles, and aren't just for cosplay, etc.) I tried to combine common various elements found in anime character designs with hints of Japanese fashion and modern street style. Of course there were certain limitations as we were using my clothes, but I do hope I was able to pull it off somehow!
Anyway, here are some behind-the-scenes photos...
These are the weapons that Andi posed with. If you watch anime, you should be able to tell they're from the anime/manga entitled Soul Eater. Both weapons were entirely handmade by my friends and I (I belong to a cosplay group called
Team orz
and we recently
cosplayed as characters from Soul Eater
.)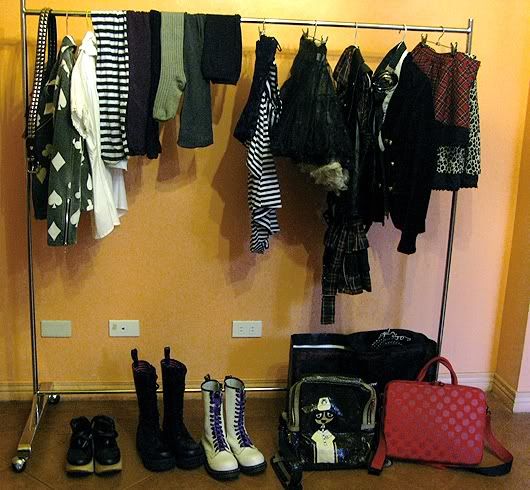 My clothes and accessories, which were worn by Andi. They looked really photogenic all laid out like that, haha! And yes, I do own quite a lot of dark-colored clothing...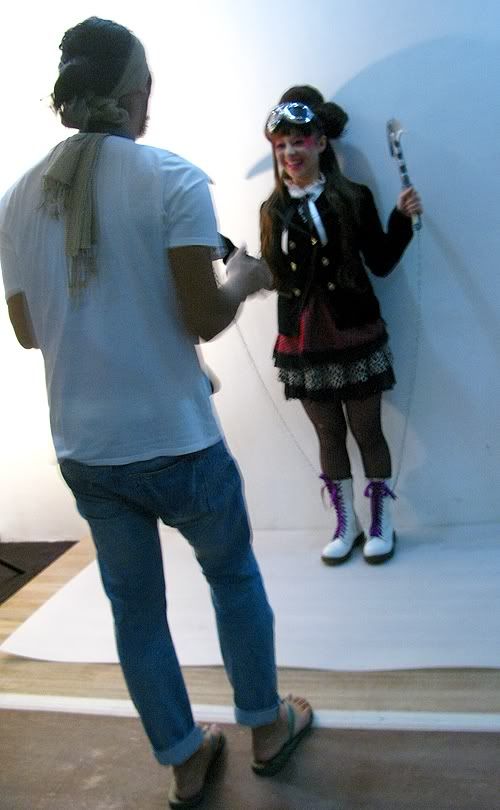 That's Andi Eigenmann being photographed by Doc Marlon.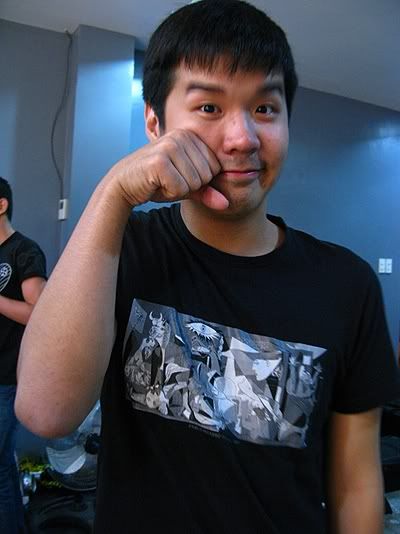 This is Raymond Ang, trying to pose like a.. a.. I'm not really sure (I'm tempted to say he was trying to channel his inner
nekomimi
-- whoops, wouldyalookatthat, I
did
say it.) He wrote the article, and asked me to style for the shoot! (Thanks again, Raymond. >=D)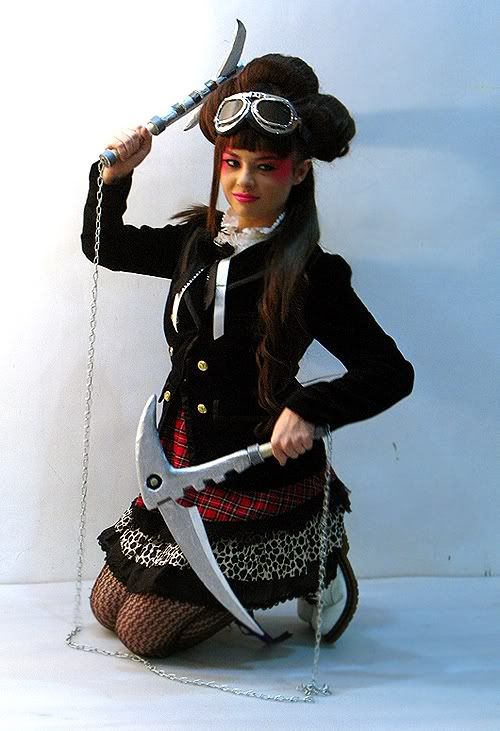 Those chained sickles are wielded by a character named Black Star. Raymond and David Milan later mentioned that this look was very Gogo Yubarii!
Behind Andi is hair stylist Buern Rodriguez. He's the epicness behind those Lea-Organa-meets-Lady-Gaga buns!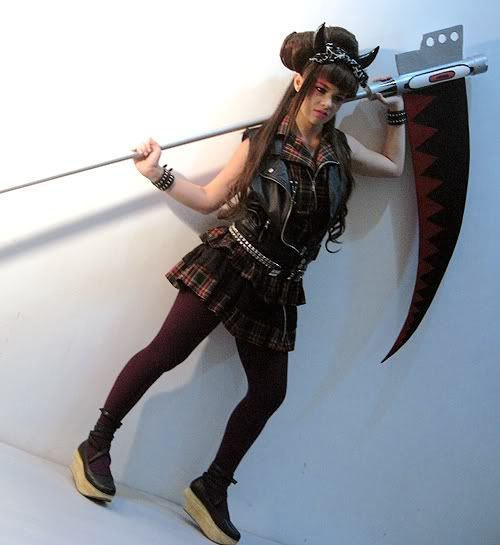 Here's Andi posing with my scythe; the character who wields the scythe's name is Maka Albarn. (By the way, do you recognize that pose? It was in the photo at the very top of this entry!)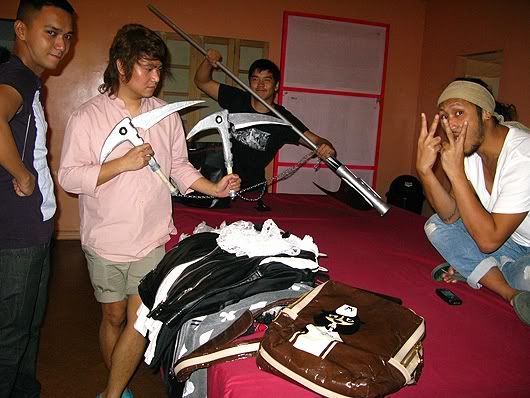 Lastly, here are the people behind it all, from the article to the photos. Going left to right, that's David Milan, Jake Galvez, Raymond Ang and Doc Marlon!
I'll admit, I'll seem really dorky after saying this but I got butterflies when I saw the article. It felt a kind of self-fulfillment similar to the feeling one gets after defeating the boss that everyone struggles to defeat in an RPG, and knowing that you're about to watch one of the best cut scenes ever. D'you know that feeling? You do, right? ... Right? .. ... R-right? ... Nevermind. I'm really glad I "survived" the shoot. It was really intimidating to share a room with such big names in the media and publications industry. See? Do I not sound like a wide-eyed-deer-in-headlights-dork? Haha. Nonetheless, this was quite an experience indeed! I mean, I've done some styling before but only for photoshoots with friends and for stage plays. Hopefully I'll be given the chance to do more of this kind of styling again!
Oh, by the way, please do check out the article if you have the time. The article itself is about Andi, however there is a piece on the local cosplay scene on the next page. It's located on page J-2 of the October 30, 2010 issue of The Philippine Star. Thank you!