Following the feeling of being drowned in the dense, murky swamp of my academics, summer has thus far had me splashing straight into clear and refreshing waters-- especially with the internship I took under Aranaz (as a personal shopper for their Summer 2011 Trunk Show at the Hidalgo building in Rockwell) jumpstarting what I know will be a very interesting summer vacation!
Dress: (a uniform for all the interns that day) Soiree by SM Dept. Store | Biker Vest: from Harajuku, Japan | Belt: Glitterati | Booties: H&M
As per usual, here's the obligatory outfit shot. The green leopard-printed dress was provided by Aranaz for all the interns to wear. We were, however, given the freedom to dress it up as we saw fit. I was supposed to go for a summery look, given of course that it would obviously be season and collection-appropriate, but I ... Well frankly, I have no excuses. I'm way too partial for black, leather and studs. Again, I'm not sorry at all! Hahaha! But then I didn't look out of place, anyway, so it's all good.
Here's a closeup, of course. I have worn that vest to oblivion and beyond. I love it dearly.
I was very pleased to be in the company of Andrea, a very good friend of mine. We handled the registration job for a few hours before we ended our shift and resumed our personal shopper duties. Oh, by the by! Almost all the photos I used in these blog came from her, so please do
visit her blog
if you want to see more of the collection, and another side of the story! (Andrea, if you're reading this, thanks for the photos ;D) The sad, sad fact about me is that I seem to be perpetually incapable of documenting material for this blog well enough... I almost wish that I could summon Ina and her magical camera powers at will.. I'm going off-topic. Let's move on.
Here are photos of some of the collection as they were displayed during the Trunk Show. Now I mentioned that I'm not as fond of summery, beachy style as I would like to be, but I love indigenous materials, especially when combined with a more cosmopolitan design, and these bags exhibit exactly that. The display was.. Well, eye candy. I could almost taste pina collada in my mouth as I got a good look at everything. No, I'm serious. Yes I know my imagination works like a cheesy advertisement.
Amina Aranaz with the Starfish (right) and Seahorse (left, being held) bags.
Rajo Laurel (I was starstruck when he popped in. I'm a fan of Mr. Rajo Laurel!) holding the Fiesta shopper, next to Amina Aranaz, with the Tali horizontal shopper.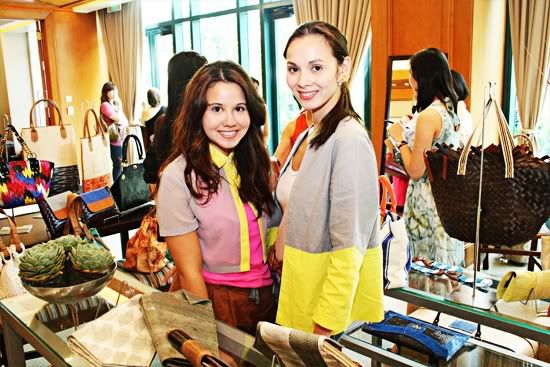 Stylish, beautiful and business-savvy sisters Rosanna and Amina Aranaz!
Here's a preview of the collection taken by Gabby Canteros for Stylebible.ph. It includes some of my personal favorites: The camsur tie-dyed drawstring tote bag in a vibrant turquoise below, the Isla straw luggages (with an adorable leopard-print lining) behind the Camsur, and the Starfish color-blocked snakeskin clutches propped on top of the beige Isla. But really, everything else is worth seeing, too-- Go check them out at
Stylebible's designer spotlight on Aranaz's Summer 2011 collection
.
I'll end this blog with these photos of Andrea and I with Martin Yambao, who was the awesome panda who got us this internship! I'd like to reap the same benefits as Martin come the end of my collegiate life. This guy is fresh out of graduation and already working with the fashion industry in a job that he enjoys-- and the opportunities are just piling up for him! Remarkable. In any case, thanks for having us, Martin! I had a load of fun, and congratulations to the whole Aranaz team for the successful release of the Summer 2011 collection!