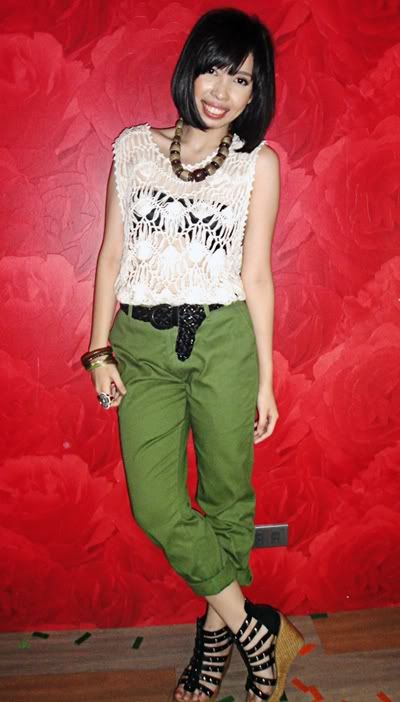 Knitted top: thrifted | Black bandeau: American Apparel | Necklace & Belt: borrowed from mother dearest | Trousers: Custom-made (I use this for cosplay! Haha) | Shoes: 168 mall, Divisoria
Last Friday, a few of my fellow Blue Repertory girls and I performed at KYSS for a Pepe Jeans event (an Integrated Marketing competition among groups from some of the top universities in the country.) We all decided that we should have a green accent on our outfits to keep us looking sort of thematized onstage, and I had a little trouble since I had to find out the hard way that I actually don't own a lot of green clothing. My friend Roxci went to the rescue though-- She spotted these green pants without being aware that it was actually for
one of my cosplays
, and gave me the idea of using them! Who would have thought I'd be able to use one of my costume pieces in an outfit? (Roxci, if you're reading this, hello and thanks again for styling me. Heehee.)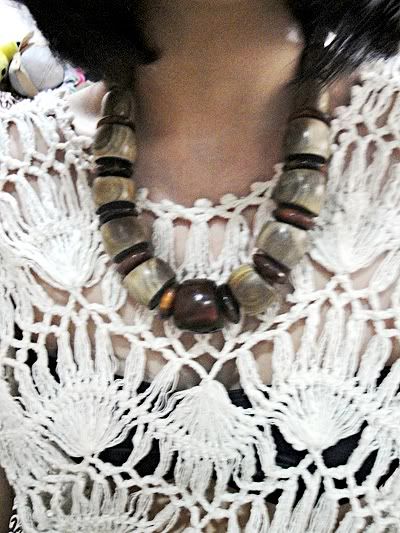 My mother owns a lot of statement ethnic-looking necklaces-- mostly made with resin, wood and shells-- that she doesn't use anymore. I am making sure that these beauties don't get lonely! (However... Admittedly, ethnic isn't a style I do often, even though I still really enjoy it.)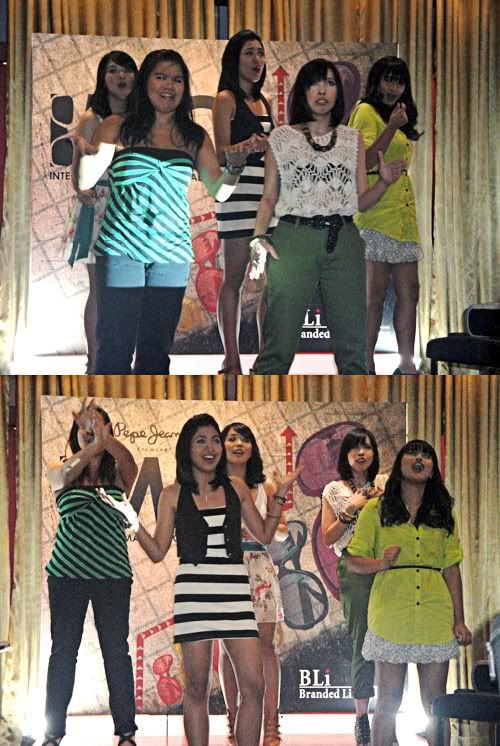 Here are a few shots of us performing. We sang a medley that my good friend Tina Ramos and I arranged, including the songs Where Is The Love, Price Tag, I'm Yours, No One, and Billionaire. We were overwhelmed with how the crowd responded to our performance. Even before we actually performed, Frank, the organizer of the event, was already proudly showing us off to the other heads and directors of Pepe Jeans who were at the venue early to check on things. Everyone flattered us infinitely, and even moreso after the actual performance, where we were met with a very loud, long and roaring applause! My heart has been warmed substantially. I'll embed a video of us at the end of the entry, in case you're curious of what the medley sounded like!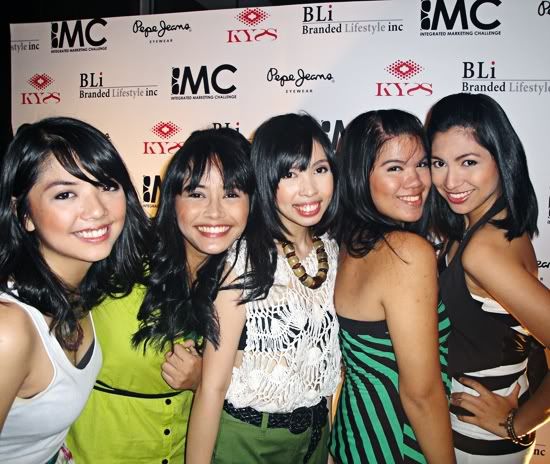 Don't we look like a legit singing group? From left to right, that's Mica, Angela, myself, Tina and Roxci.
It's too bad this photo's dark. I really love it; we all look like we're having a blast.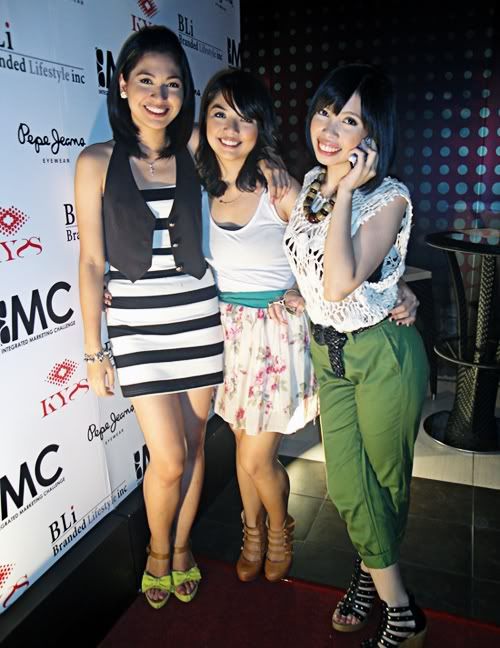 That's me with Mica, who borrowed my shoes for that night, and Roxci, who was wearing a very very adorable pair of neon green platform sandals from the Jellybean S/S 2011 collection. Not only did the heel height make her significantly taller and more long-legged than she already is, they also totally looked great with her skin tone.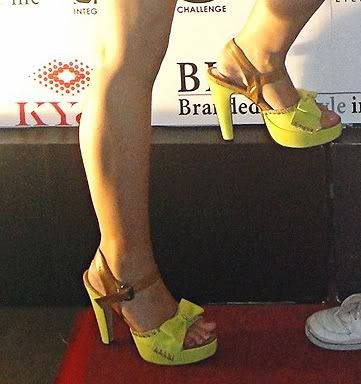 As promised, here's the video of our medley. The clip is split into 3 parts. The first part is the actual medley, the second part is the live performance (at around 4:25) and after that are snippets of our rehearsals. Please do check it out. Enjoy! ;)