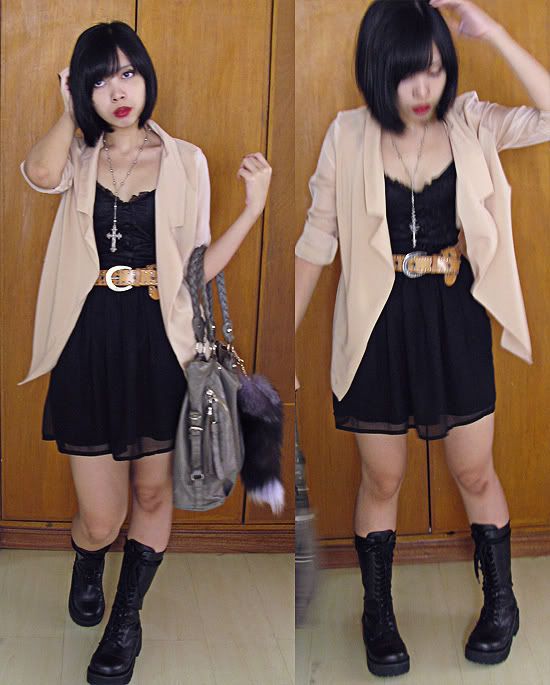 Sheer nude blazer: from Singapore | Rosary necklace: Forever 21 | Black dress: H&M | Combat boots: Black Peace Now | Bag: Forever 21 | Fox tail: from Singapore
I called this look "tough luxe"-- apart from the fact that this is my attempt at scoring wit points and playing with the words "tough luck"-- because it fuses the rugged with the romantic. Heavy combat boots and a studded camel-colored leather belt were met with delicate lace and lightweight chiffon. It's a dark romantic look as per usual. I don't get to document similar looks that I've done, but I'm a big fan of those, and this is definitely my go-to kind of outfit. Speaking of fandom, a whole bunch of it is going to be unapologetically hurled at you for the rest of this entry (if you don't know why, read the words in the parenthesis in the title!) so prepare yourself! Haha!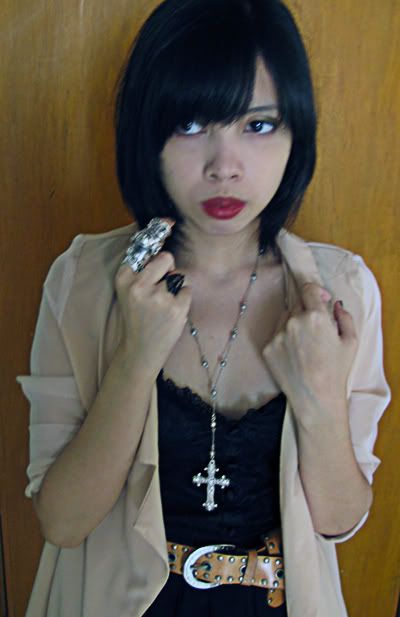 I'm no makeup guru, but I really think that you guys should give Ever Bilena's matte lipsticks a try. The colors are surprisingly rich, pigmented and long-lasting! I'm wearing Dusk in these photos. I plan to go out and get myself more-- they're shamelessly affordable at around P95 a pop, if I remember correctly.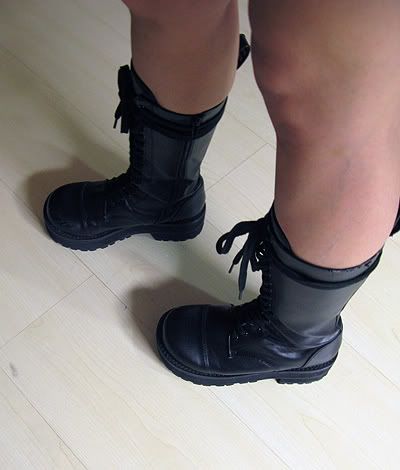 In other way more important news, 3 words:
I. Met. Mr Big
. They are one of my favorite Rock and Roll bands of
all time,
as well as a huge musical inspiration-- well at least with regard to the vocalist Eric Martin, whose vocal abilities, in my opinion, are still unmatched. As mentioned in my
previous entry
, my brother and I won our meet & greet passes on the radio, and the gravity of how awesome the fact that
we were going to be face-to-face with some our biggest idols
didn't hit me until I was actually inside the SM North Edsa Sky Dome, making small talk with other fans and waiting for the event to begin. Then suddenly the lights dimmed, the host came on stage, and my heart started beating just like it always does when I know something
defining
is about to happen. Yes, I am typing like a total fangirl. You know why? 'Cause, hell, I
am
a total shameless fangirl when it comes to great musicians like Mr. Big!
The event proper began with performances by the 100% estrogen-powered local rock act General Luna...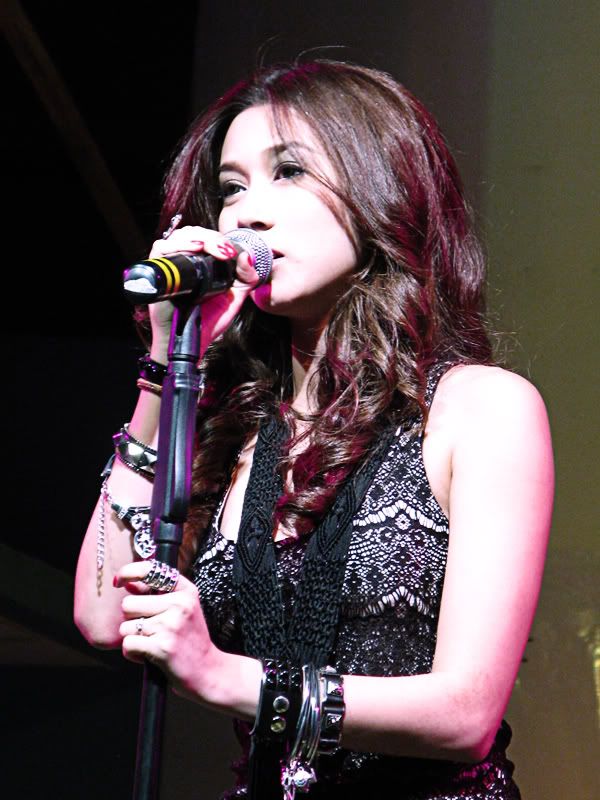 And an ambient alternative band called Lip Service...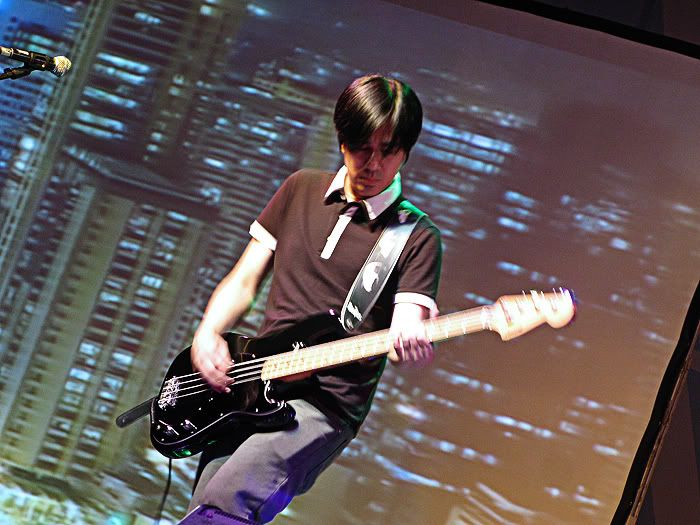 ... And finally, the press conference began and Mr. Big stepped out and onto the stage. I swear I felt all the sense inside of me leave this universe as I sat there gaping at the awesomeness that were, from left to right in the photo below, the wildly talented Rock and Roll high rollers Pat Torpey, Billy Sheehan, Eric Martin, and Paul Gilbert. Themselves. In the flesh. Just a few feet away from me. I'll stop now.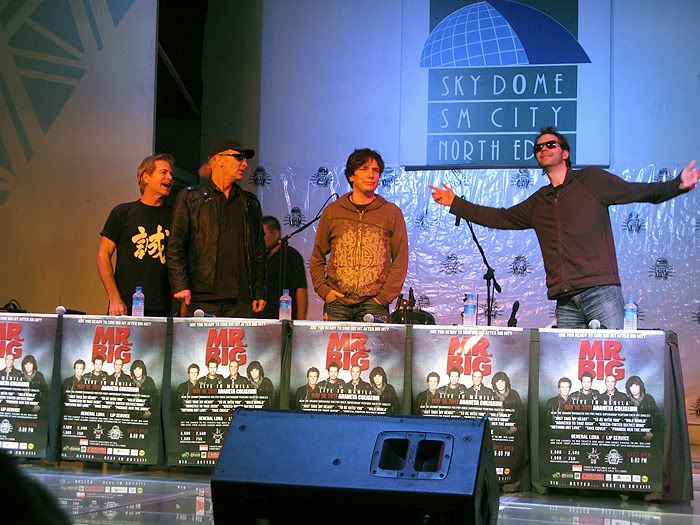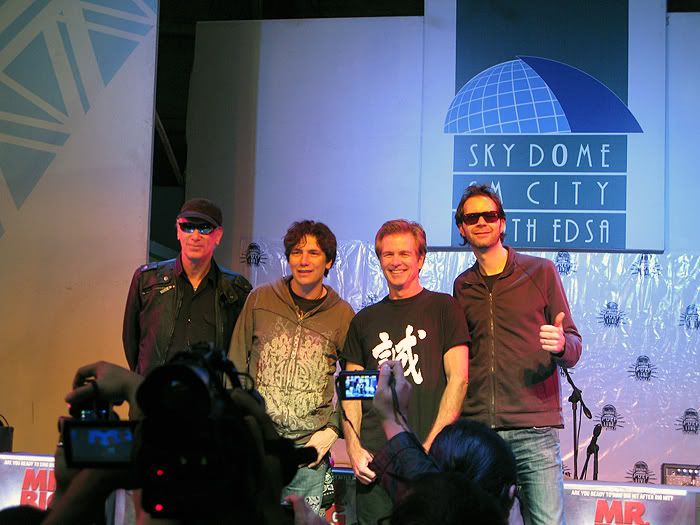 After the press conference was the moment we non-press pass holders were waiting for-- the meet & greet and autograph signing.
Me with the wildly admired guitar virtuoso Paul Gilbert. Instead of making calm and composed small-talk like I had planned in my head, I got too starstruck and ended up gushing like the fangirl that I really was- er, am.
HAHA! A photo from PULP magazine's photographer of me shaking Eric Martin's hand with much gusto. His voice is irreplaceable in my books.
With Pat Torpey and Billy Sheehan. You know you're a big shot rock star when you can get away with wearing shades indoors.
This is my brother, who really looks up to Paul Gilbert. He looks really dorky here. Well, he is really dorky. HAHAHA. Please notice his Paul Gilbert shirt. He's an even bigger fan that I am! That's his guitar that Paul Gilbert's signing. If it weren't for him I'd have never heard that Jam 88.3 was giving out meet & greet passes!
(Thank you to PULP magazine for the previous 3 shots! :D)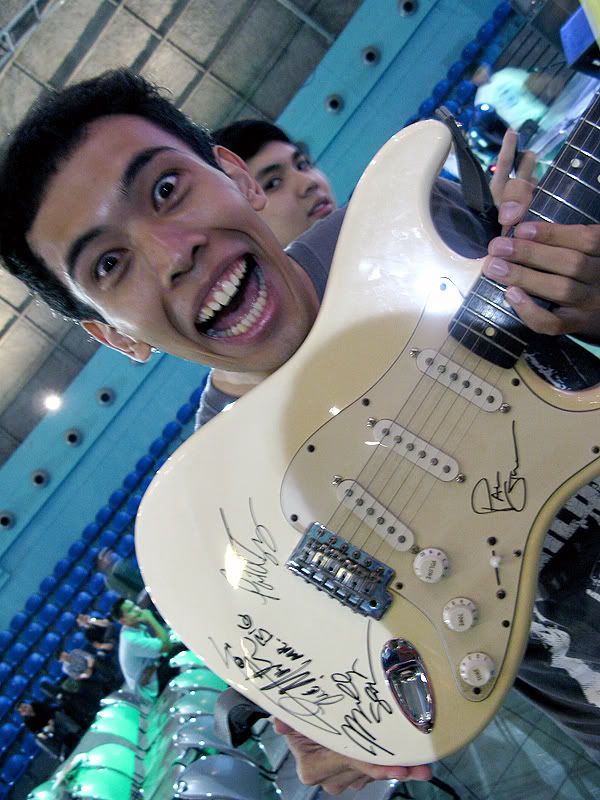 My brother (as seen in the previous photo) had his guitar signed whereas I sufficed with having them sign on a concert poster. It's now hanging on my wall, upstaging all the other posters I've put up like Mount Olympus amidst anthills. Haha! I am so wildly stoked for the concert now.