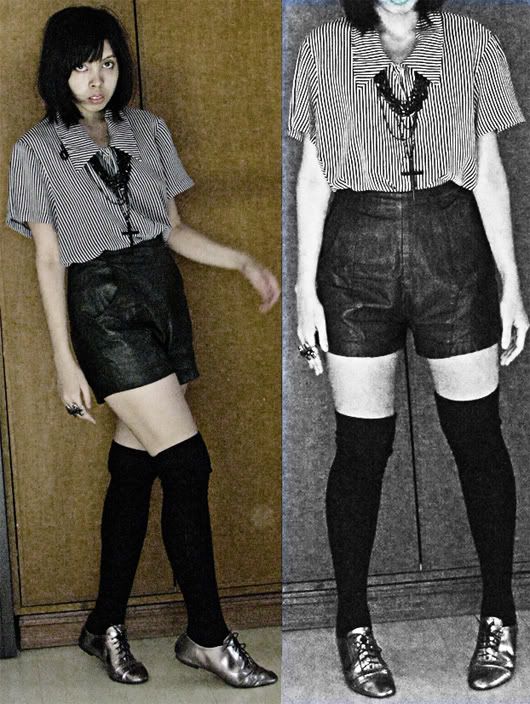 Blouse: thrifted | Leather shorts: thrifted | Brogues: Pill | Necklace: SM Dept. Store
The word "ghosts" in this blog title alludes to many different things-- except the supernatural. It refers to the surreal return of people who have been lost to you over a period of time-- in this case, a huge crowd of students and familiar faces (whom have all been missed dearly) filling the halls of my university, which was almost literally devoid of life during the summer. It refers to the state of my body, feeling as if it were floating, phasing through walls, detached from tangibility, numbed to the routine just to cross on over to the other side.. I mean, to the other side of the classroom doors and further away from the awkwardness of not knowing anybody in the class and the dryness of going through syllabi. It means the ghost of the summer state of mind lingering in my consciousness as I enter the school year, once again, for the first time. In writing, it seems like such paradox-- how your "first days" repeat in terms of going back to school, that is. But really, very little about each of my first days were repetitive. They seem to get graver each year, though-- because, well, it's like watching an endangered specie draw closer to extinction. Soon I'll be looking back at the ghost of all of my "first days" in school. It almost seems as mysterious as the supernatural.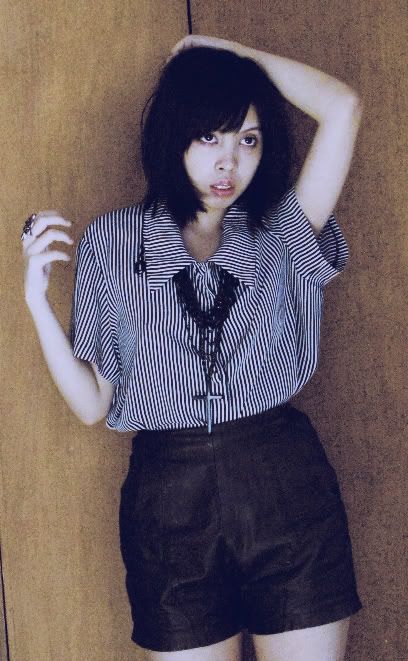 Both the top and shorts cost me only P50 each, isn't that just splendid? I didn't have to blow more than 2k on leather shorts at retail stores. I totally high-fived myself when I found them. What I love about the blouse is the placement of the striped fabric on the sleeves and collar, as well as the shape and length of the collar itself.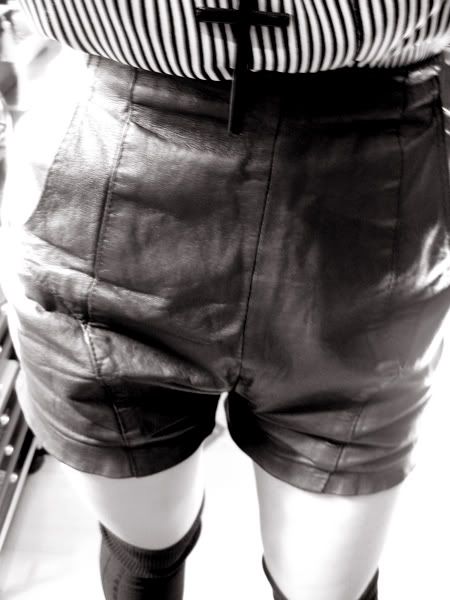 The lines running down the front of the shorts give them a subtle "paneled" look.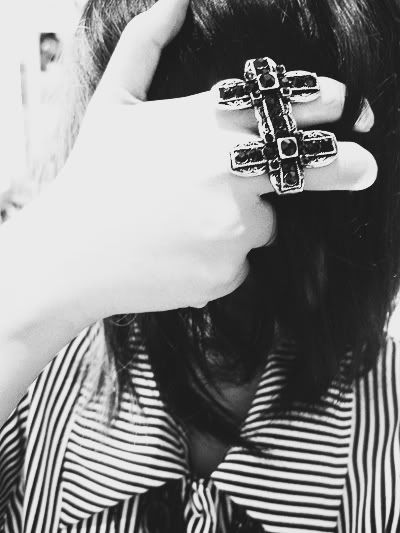 When I got home, the zipper on the back of my leather shorts got completely stuck and I couldn't take them off. I had to cut them open. Needless to say, my shorts are "broken" for now. I'll have them repaired soon via zipper replacement.